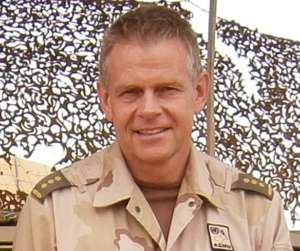 Colonel Hans van Dalen started his military career in the 1981 at the Dutch Royal Military Academy. After serving several years as subaltern officer in mechanized infantry units, he switched to the armor-branch in order to enhance his knowledge on maneuver warfare.
His career is a mixture of serving within operational Army units, Army training and knowledge institutions and position within the Defense and Army intelligence branches.
Colonel Hans van Dalen was four times deployed on operational missions in Bosnia-Herzegovina, Macedonia and Afghanistan. He also executed several operational working visits to the Balkans, Iraq and Afghanistan. Col van Dalen has also personal experience with CD&E methodology. He experimented with future operational concepts during his training job and even during his tour as leading intelligence officer within Task Force Uruzgan (Afghanistan).
Colonel van Dalen also was employed as the Head of Directorate Land Warfare within the Land Warfare Centre and was responsible for development of international and national doctrine together with the development of operational and organizational concepts for future warfare.
His last deployment was commander of the leading intelligence unit (ASIFU) of the United Nations MINUSMA mission in Mali. After this deployment he assumed command of the Netherlands Joint Intelligence Command (JISTARC), dealing with preparation and deployment of intelligence units, including experimentation, knowledge production and future development of the Army Intelligence. Next Col van Dalen was posted to Headquarter Netherlands Army in Utrecht as Head of Current Army Operations. In this assignment he was responsible for major operations, exercises and handling of emergencies within the Dutch Army. Nowadays he is serving as deputy commander of Education and Training Command RNLA.
Next to his other assignments colonel van Dalen is also proudly serving as the Regimental Commander of the famous Regiment Hussars van Boreel.
Colonel van Dalen has written some articles on Future Warfare, Maneuver Warfare en Information Warfare.